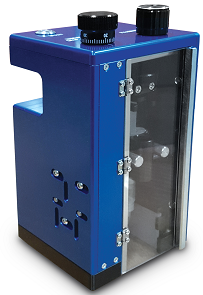 Phoenix Smart (M)
---
Drop shape image analysis contact angle. Sessile drop method. Portable type, equivalent limitless sample size.
Manual drop control system.
- Max sample size: Equivalent with limitless
- USB 2.0 type Digital CCD camera, Frame rate: 70 frame/sec
- 640x 480 Pixel resolution
- Light source: LED
- Drop position checking window - Drop volume control by manual
- Able to touch to surface by manual control
- Contact angle measure range: 2 -180 degree,±0.1deg Accuracy
- Surfaceware9 Software for static, Surface energy, Surface tension by Pendent drop method, D-base, Data comparing, Auto avoid image noise of measuring, Exact drop volume calculator function, Analyzed data export to Excel, etc
- Standard supplied accessories: Syringe (3ml/10ea), Needle (30G,27G,22G:5/each), Manual, Calibration images(30, 120±0.5degree)
- Connect to Desktop PC or Laptop (Windows 7/8/10)
Device dimensions: 91mm(W) x 56mm(D) x 159mm(H)
---
Terms and Conditions
Shipping: Based on availability and shipping method.
Drop shape image analysis contact angle. Sessile drop method. Portable type, equivalent limitless sample size. Manual drop control system. - Max sample size: Equivalent with limitless - USB 2.0 type Digital CCD camera, Frame rate: 70 frame/sec - 640x 480 Pixel resolution - Light source: LED - Drop position checking window - Drop volume control by manual - Able to touch to surface by manual control - Contact angle measure range: 2 -180 degree,±0.1deg Accuracy - Surfaceware9 Software for static, Surface energy, Surface tension by Pendent drop method, D-base, Data comparing, Auto avoid image noise of measuring, Exact drop volume calculator function, Analyzed data export to Excel, etc - Standard supplied accessories: Syringe (3ml/10ea), Needle (30G,27G,22G:5/each), Manual, Calibration images(30, 120±0.5degree) - Connect to Desktop PC or Laptop (Windows 7/8/10) Device dimensions: 91mm(W) x 56mm(D) x 159mm(H)
This is a preview of the recently viewed products by the user.
Once the user has seen at least one product this snippet will be visible.
Recently viewed Products